Francesca Albertazzi designed the interiors and gardens for the HGTV Canada series Pamela's Garden of Eden
Reviews and recommendations are unbiased and products are independently selected. Postmedia may earn an affiliate commission from purchases made through links on this page.
Article content
It all began with a cryptic message from a friend: someone would call her about working on an interior design project. It was the description of the potential client that piqued her interest. 'She's just like you,' said the friend. 'She loves antiques, roses, dogs, and horses.'
Article content
"I said, 'who the heck is this person,'" recalls Francesca Albertazzi, interior designer and principal at Studio Albertazzi. "Then I found out it was Pamela Anderson. The fact that he (contractor Kenny Gemmill) set it up like that, that it's going to be roses, dogs and antiques, how can you turn that down?"
Article content
The project was designing the interiors and gardens for Pamela Anderson's Ladysmith property for the HGTV Canada series Pamela's Garden of Eden, and yes, Albertazzi took the job. An initial meeting with Anderson in May 2021 began a television design adventure that would last almost six months.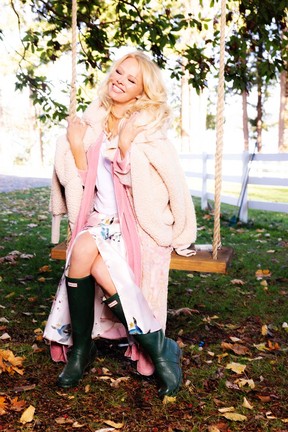 "There definitely was a connection," Albertazzi recounts. "It wasn't a foregone conclusion that I was going to work on the show. I went over there. We met. I needed to make sure that it was the right fit for me. She obviously needed to see if I was the right fit for her. We saw that there was a meeting of minds, creatively speaking."
Article content
Working on a television renovation show is not novel for Albertazzi. She worked as a designer for three seasons or so on Love It or List It Vancouver.
Pamela's Garden of Eden, though, was a different experience. This time she was front and centre on camera executing her design vision.
"One of the reasons why I said yes to the project was because I was nervous and excited about that on-camera experience," she says. "I've been kind of dancing around it."
When it was suggested by a director on Love It or List It for her to appear on camera, she declined. Appearing as perhaps an assistant or someone else when in reality, she was the designer didn't appeal to her. Whereas the producers of Pamela's Garden of Eden planned on showing the people involved in the design and construction process and the work as it unfolded.
Article content
"They said, 'Look, we're just going to show up. Whatever you do, whatever is said, we're not going to ask you to do anything differently than you're actually going to do that day,'" she says.
The scale of the project was large: a six-acre property with a house, cabin, boathouse and garden shed. Not everything would be remodelled in the short time span of the first season, but the original plan included overhauling the boathouse. That got nixed when there was a hold-up with building permits.
"Because we couldn't do the boathouse as quickly as we thought we were going to do, we had to substitute it with some other projects," Albertazzi explains. "We couldn't move the deadline for those projects, so we had to hurry up and make that design happen a little faster than one would have wanted if you knew that was going to be the project from the onset."
Article content
The team renovated the cabin's main living area, kitchen, and bathroom but not the two bedrooms. In the main house (the Roadhouse), they transformed the kitchen, front room, the den off the kitchen, and the downstairs mudroom/pantry.
They also tackled the landscaping. A passionate gardener, Albertazzi relished the opportunity to dig in with her design ideas for the garden spaces.
"On the creative side, there was a lot of freedom, especially in the garden," she says. "If Pamela just had her way with production, she would have just spent all the money on plants which would have made me so happy too. I really adored the time we had in the garden at the Roadhouse and in the rose garden."
For the interiors, Albertazzi says Anderson wanted everything about the esthetic to be relaxed and fitting for the location and natural surroundings.
Article content
Anderson, she says, gravitates toward the California beachy style, but hers is a warm-climate beachy style which, from a practical point, needed to be tweaked for the more northern, rainy coastal weather. Subtle shifts like directing her to opt for practicality by not using white cotton outside on a wicker bench when it likely would be exposed to the rain.
Their shared appreciation for vintage, antiques and a touch of quirkiness or whimsy drove the project's design. The challenge for Albertazzi was convincing Anderson, who loves all things white in interiors, to embrace more colour to introduce more emotion and warmth into the spaces.
"She's a very emotional and passionate person. It wasn't a huge pull (toward colour)," she says, but admits that Anderson wasn't ready to embrace as much colour as she would have wished.
Article content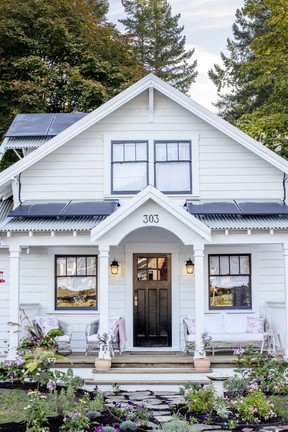 "In one cabin bathroom, the vanity, I think it was a medium, dusty blue. We renovated the bathroom (and) there was this glorious wallpaper with shades of green, and I think lilacs or smoky hydrangeas. … And I said, come on Pamela, you've got to do a green vanity. The sketch is on my Instagram (@studioalbertazzi). She loved it, but at the last minute, it was 'no, no, just do white.'"
For much of the furniture, it was about incorporating pieces Anderson already had rather than just buying many new things. As she has had multiple residences, Anderson had often bought furniture in pairs and moved them around to different homes.
"She feels attached to some pieces of furniture," Albertazzi explains. "She loves those pieces, but she doesn't handle them with a preciousness. 'Oh my God, don't touch that. Don't sit on that.' She's very generous in how she uses pieces, and I admire that and share that with her. It was that few but treasured pieces that was the approach, as opposed to pack in (too much)."
Article content
As much as everyone was working against the clock to keep the show on schedule, Albertazzi said the focus was still ensuring that they were always doing the right thing for Anderson, "the client," as they weren't constructing a movie set. It was her home. A home that was handed down from Anderson's grandmother, Albertazzi says, and has been envisioned as a welcoming place for future generations.
"She was really cognizant and wanted to fulfill all these needs of past, present and future," she explains. "So there was a lot of wrangling to do. I had to create a welcoming space for all these elements."
Albertazzi says she's heard whispers about a second season of Pamela's Garden of Eden, but that's all. She's happy to be focussing on her other clients again and is working on a project in another idyllic location at Timothy Lake. She credits support from associate designer Taleah Smith for keeping the studio practice ticking along while she was working on the show, saying that though it was an excellent experience, it really was all-consuming.
"On the whole," she observes, "I'm quite proud of the dovetailing of me and Pamela and what came out of that creatively."
Pamela's Garden of Eden is available to stream on STACKTV.
Pamela Anderson exposes her Ladysmith property's revamp in new TV show

Squamish designer gets a break with HGTV's Sarah's Mountain Escape

Q&A: Nam Dang-Mitchell sets her sights on sublime moodiness and the otherworldly in her design